How to Detect Watermarks on Stamps

A large variety of watermarks can be found on postage stamps from countries throughout the world. Watermarks were originally used by governments to prevent counterfeiting.

From 1895 until 1916 the U.S. government used two types of watermarked paper, double-line and single-line with the letters "USPS". Watermarks can be difficult to find, but rewarding to discover. Depending on the watermark it may multiply the value of the stamp by 2-3 times or more! Watermarks can be detected in a variety of ways, sometimes they can be seen from the backside of the stamp when the stamp is placed on a dark surface.

For harder to spot watermarks, submerging the stamp in watermark fluid designed to make watermarks more visible, is often the easiest option. This specialized fluid is safe for most stamps and will not affect the gum on mint stamps.

1. In your Watermark Detector Tray add a small amount of Watermark Fluid, just enough to submerge the stamp. Place the stamp face-down and its watermark should become visible as soon as the stamp is submerged. The stamp shown on the right has a watermarked "S" on it.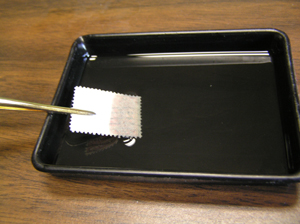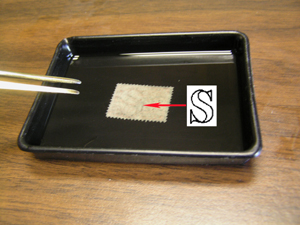 2. Most stamps will only have part of a watermarked image on it. Do not expect to find many watermarked stamps with full letters on them. Shown below, there are 2 complete watermarked letters visible on this block of 4 stamps. The image on the left is unedited, while the image on the right has been enhanced to better highlight the watermark.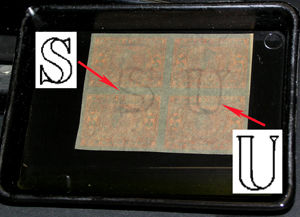 Double Line Watermark



3. Some stamp issues from 1910 to 1916 have a single line watermark, also spelling "USPS". These may be more difficult to spot as they are smaller than a double line watermark and most of these stamps only have a small portion of the watermarked letter on the back. For example the stamp on the right in the picture below has half of a "U" on it.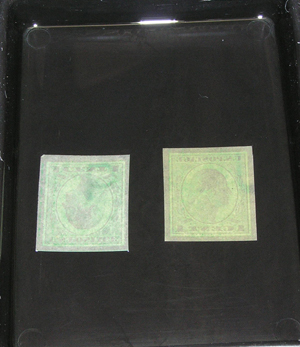 Single Line Watermark U S P S