Back to Guide to Collecting

What is a First Day Cover?
A U.S. First Day Cover, or FDC, is an envelope or sometimes a post card bearing a stamp cancelled on the date the stamp was first available for postal use.  In the United States, stamps are traditionally placed on sale at a site designated as the official First Day post office, where there is usually a ceremony dedicating the new stamp. The stamp or stamps then go on general nationwide sale the following day.
First Day Cover collecting first became popular in the 1920s, when the post office began to issue commemorative stamps more frequently. In the 1920s and early 1930s First Day Covers were postmarked with everyday working postmarks. This can make it challenging to identify some of the earlier covers if you don't know the dates of issue. The first official first day postmark with the familiar words "First Day of Issue" between bars was used for the Ordinance of 1787 commemorative in 1937. In the late 1950s to the early 1960s, there was often a small illustration included in the postmark below the city name and date.  In more recent years, first day postmarks have usually been unique graphics related to the stamp's subject, often in color.
What is a Cachet?
A typical first day cover includes a pictorial cachet and a special "First Day of Issue" postmark from the issuing city.
In the earliest day of First Day Cover collecting, they were usually done on plain everyday envelopes. Occasionally the post office would add via a rubber stamp a commemorative illustration or caption in the blank area on the left side of the envelope. In the late 1920s, it became popular for many prominent stamp dealers and first day cover servicers to have special commemorative illustrations and captions printed on the envelopes. These commemorative illustrations are known as cachets.
Some of the earliest cacheted covers are very rare and desirable, but by the mid-1930s there were literally hundreds of cachet makers, each with their own distinctive artistic style and utilizing various printing methods including engraving, multicolor printing, thermal ink, silk-like cloth, and even actual photographs.
Addressed or Unaddressed?
Most First Day Covers to about 1950 are usually found addressed, since it was common for the covers to travel through the mail to the addressee.  Some of the larger cachet makers would have large quantities of covers processed and returned to them, without addresses, which they would later sell to collectors.  This started a trend of collecting unaddressed covers. Sometimes an unaddressed cover has actually passed through the mail, since once unaddressed covers became popular, collectors would address covers in pencil or use removable labels so they could later create an unaddressed cover.
As to whether it is more desirable to collect addressed or unaddressed covers, it is up to the collector. Some collectors prefer covers that have passed through the mail.  Having a name and address on the cover, even if the name is unfamiliar, adds some history and provenance to the cover and can even show how address styles have changed over the years. And sometimes an addressed cover brings an unexpected surprise to a collector. We had a customer who received a cover and was pleasantly surprised to discover it was originally addressed to his uncle decades earlier!
Unusual First Day Covers
Generally a stamp is issued in one designated city relevant to the subject of the stamp, or during a special occasion such as a stamp exhibition. Occasionally a stamp will have first day ceremonies in more than one city, or on rare occasions such as the Kennedy memorial issue of 1964 or the Postal Service emblem stamp of 1971, be issued across the country on the same day. This can create a challenge for the collector desiring an example of every city!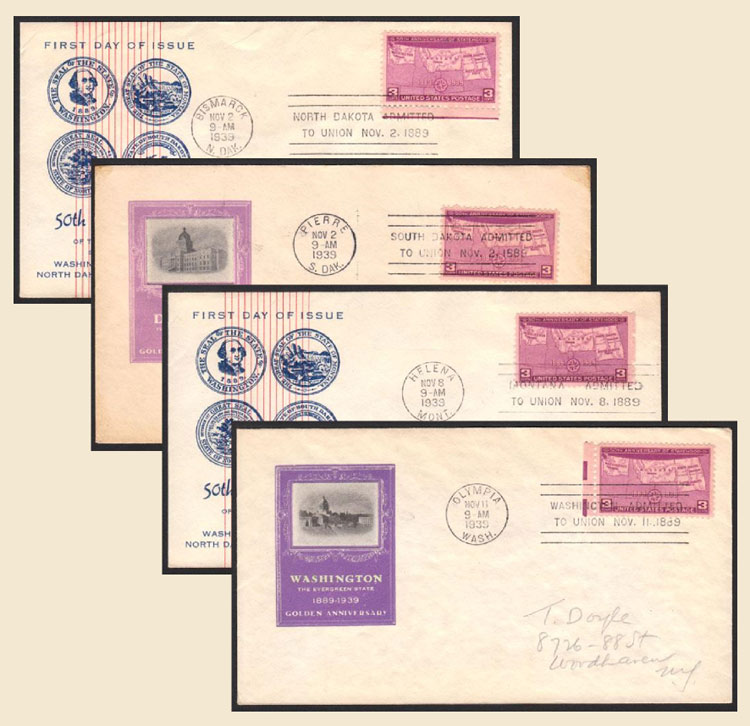 One time, a U.S. stamp had 4 official first day ceremonies on 3 different dates! The Statehood issue of 1939 (US #838) commemorated the 50th anniversary of 4 states, and was issued on November 2 in Bismarck, North Dakota, and Pierre, South Dakota, November 8 in Helena, Montana, and November 11 in Olympia, Washington.  All four of these cities and dates are considered the "official first day" of this stamp.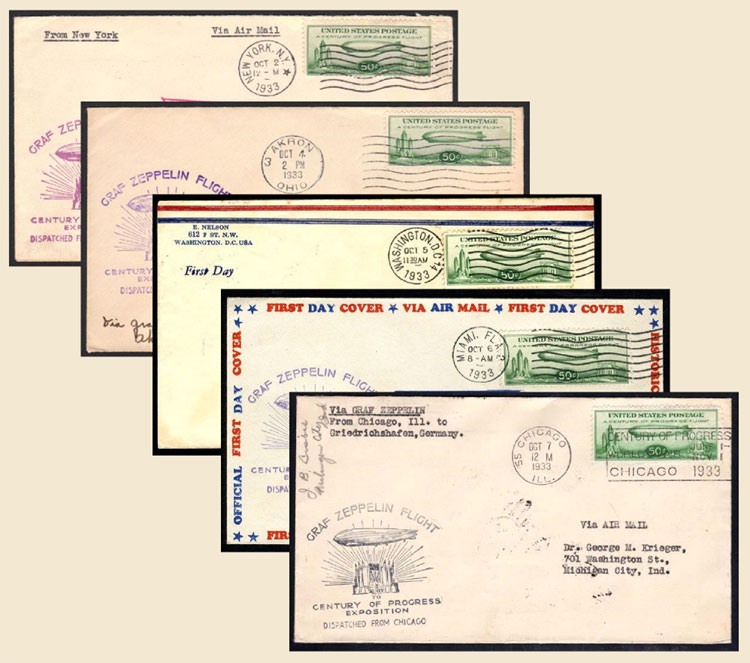 Likewise, the 50-cent Century of Progress Graf Zeppelin stamp (US #C18) has five different official first day cities on five different dates. As the airship made its way from New York City on October 2, 1933, to the Chicago Century of Progress Exhibition on October 7, it made a stop each day in Akron, Washington and Miami, where the stamp was given a First Day ceremony and First Day Covers were postmarked and loaded onto the Zeppelin bound for Chicago. And like the 1939 Statehood issue, any of these dates is considered the first day of issue.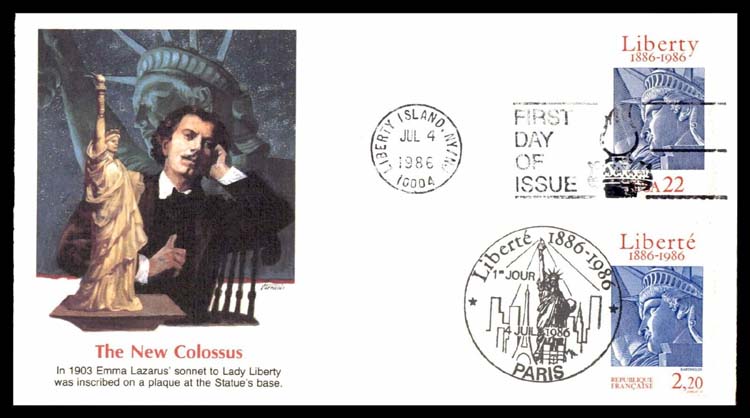 From time to time the United States issues a joint issue with another nation, where a common anniversary or subject is commemorated. Often both nations will share the same design, and combination or "combo" first day covers are created with the stamps from both nations on the cover, postmarked in their respective first day cities. These stamps celebrating the 100th anniversary of the Statue of Liberty were issued on July 4, 1986 in Paris and New York City.
Some First Day Cover collectors also collect "unofficial" First Day Covers. These are covers postmarked on the day of issue, but not in the official issuing city. Unofficial First Day Covers are usually made by collectors or dealers who buy the stamps in the official city of issue and prepare covers to be postmarked in another city or town that may be relevant to the subject of the stamp. Unofficial First Day Covers are typically made in small numbers and are beyond the scope of most cover collectors who desire covers postmarked in the official city of issue, but are a popular sideline.