back to Famous Stamps

World's First Airmail Stamp
United States 24¢ Curtiss Jenny C3 Airmail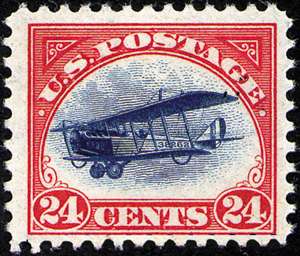 Towards the end of World War I the United States recognized that airplanes could be used to carry mail faster than ever before. In 1918, the world's first airmail stamp was printed. The 24¢ stamp featured the Curtiss Jenny, the plane that had been chosen to deliver the first batch of airmail letters.

The inaugural flight of the U.S. Air Mail Service was scheduled to begin at the Polo Grounds in Washington D.C. and run to New York with a stop in Philadelphia on the way. On May 15th, as President Woodrow Wilson and other dignitaries looked on, the engine in the Curtiss Jenny failed to start because of an empty fuel tank. Once the plane and its cargo of 140 pounds of letters finally got airborne, the pilot George "Wrong Way" Boyle became lost and was forced to make an emergency landing in a nearby field. This unexpected landing caused the plane to become disabled, and its cargo was delivered to its final destination by truck, 2 days later!
In spite of its dubious debut, Air Mail delivery became extremely popular, and in less than six months the Postal Service reduced the airmail rates twice! Ironically, the world's first airmail stamp was assigned the catalog #C3 by the Scott catalog editors, even though it was the first to be issued on May 13, 1918. The other two airmail stamps issued in 1918 also share the same Curtiss Jenny design. Each was released when the rates were lowered, the 16¢ green was issued on July 11th (#C2) and 6¢ orange was released on December 10th (#C1).
Air Mail Service appealed greatly to bankers and businessmen by allowing important documents and financial information to move across the country quicker than ever before. By 1924 a single letter could make its way across the country in approximately 28 hours, a modern marvel for its time. While the Postal Service was able to boast a 96% success rate, many pilots were injured or killed due to engine failure or adverse weather conditions. In 1918 a single misprinted sheet of the first US airmail stamp became the most famous stamp error in American history.